FRANK KOZIK - Peinture ORIGINALE Signée Unique en son genre : LEURRES ROUGES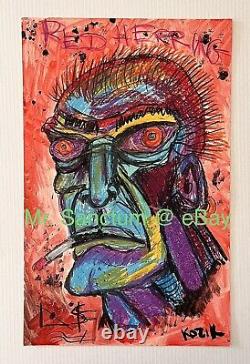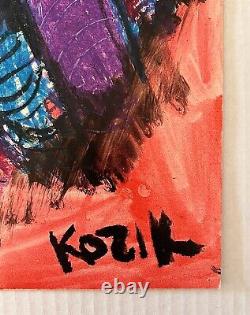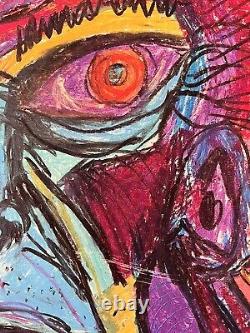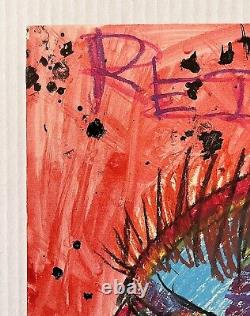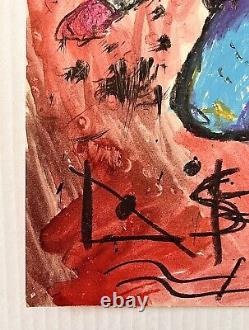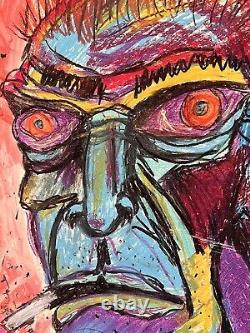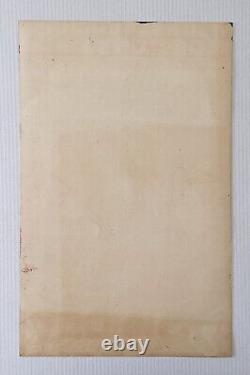 FRANK KOZIK Original Signed 1983 One of a Kind ART. Painted on thick card stock. (my green watermark won't be on this). Condition : See Pictures - Great shape, very displayable, a couple very minor scratches.
Between 1987-91, I bought 2,000+ posters from Kozik, he came into my record store every time he was putting up his latest poster. He would sell me 10-30 pieces every time. I got this original Art when he was moving from his studio, pre 1997, and moving to California. Frank Kozik (January 9, 1962 - May 6, 2023).
Was an American graphic artist best known for his posters for alternative rock bands. With his prolific output and connections in the music industry, Kozik helped revitalize rock poster art in the late 1980s and 1990s, and is regarded as a founder of the modern art print scene.
His album cover work included the bands Queens of the Stone Age and the Offspring, also a local Austin band called, Kamikaze Refrigerators, Later in his career he became a toy designer with Kidrobot. FRANK KOZIK Œuvre Originale Signée 1983 Unique en son genre.
Peinte sur un carton épais. (mon filigrane vert ne sera pas présent sur cette œuvre). État : Voir les photos - En très bon état, très exposables, quelques légères égratignures. Entre 1987 et 1991, j'ai acheté plus de 2000 affiches de Kozik, il venait dans ma boutique de disques à chaque fois qu'il affichait sa dernière affiche.
Il me vendait entre 10 et 30 pièces à chaque fois. J'ai obtenu cette œuvre originale lorsqu'il déménageait de son studio, avant 1997, pour s'installer en Californie. Frank Kozik (9 janvier 1962 - 6 mai 2023) était un artiste graphique américain connu pour ses affiches de groupes de rock alternatif. Avec sa production prolifique et ses connexions dans l'industrie musicale, Kozik a contribué à revitaliser l'art des affiches de rock à la fin des années 1980 et 1990, et est considéré comme l'un des fondateurs de la scène moderne de l'estampe artistique.
Parmi ses réalisations en tant que concepteur de pochettes d'album, on trouve les groupes Queens of the Stone Age et the Offspring, ainsi qu'un groupe local d'Austin appelé Kamikaze Refrigerators. Plus tard dans sa carrière, il est devenu un concepteur de jouets chez Kidrobot.