USA-Made Hand-Turned 10 Natural-Finish Wood Wish Bowl with Autumn Leaves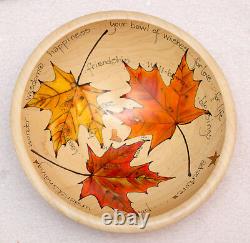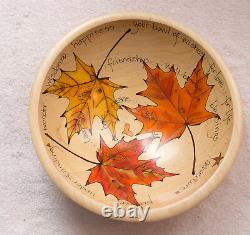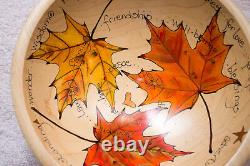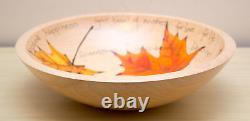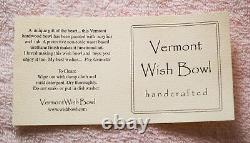 This 10 natural finish hardwood bowl holds. A spiral of hopes, dreams and aspirations.
The wish word spiral begins with a heart symbol at the bowl's center. The spiral continues with other wish words such as love, hope, peace, joy, etc. Symbols painted in primary colors, such as a heart, triangle, spiral, square, or star, are used to separate word groups. At the spiral's end, close to the rim of the bowl, the following is written.
Three leaves in orange, red, and yellow complete this particular bowl. The finish is a water-based urethane, which aids.
In alcohol, water, detergent, grease & sunlight resistance. Environmentally acceptable/clean air compliant/non-harmful to ozone layer. Makes a unique wedding gift. Instead of the traditional wedding guest book, place the wish bowl along with small cards and pens at the wedding ceremony or reception. Ask each guest to write a personal wish for the wedding couple and place in the bowl.
Can also be used for retirement or birthday parties. Makes a beautiful centerpiece for Thanksgiving when filled with fresh fruit or flowers.
Made in the USA by Peg Gennette! Dancing to the Spirit of the Wood is an artisan gift shop. We offer gifts that have been hand-crafted by artisans from all over the United States. Many of the items were crafted especially for us and are one-of-a-kind. For other unique, Made in the USA gifts.
Check out my other items.