Stealth Walker V Solid Metal Tactical Walking Cane The Original From The USA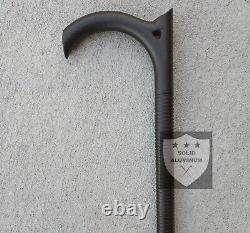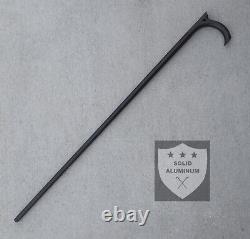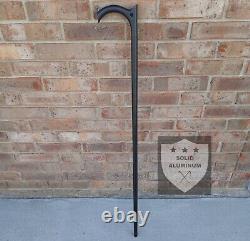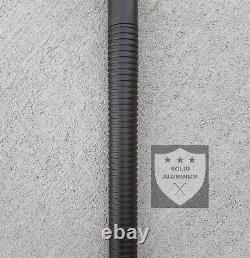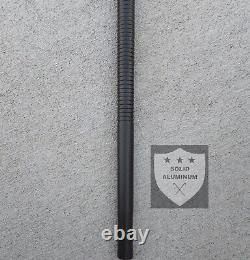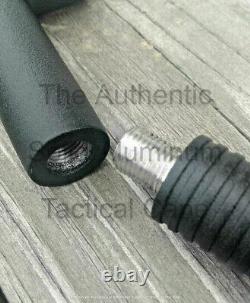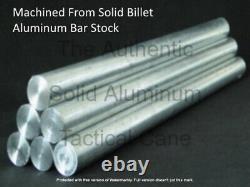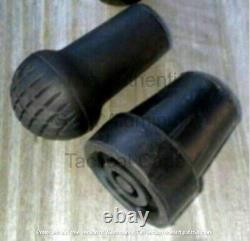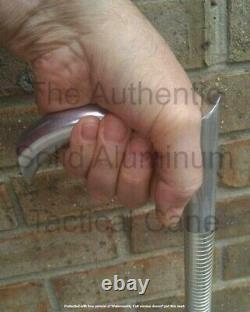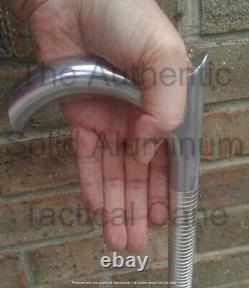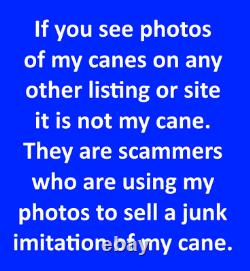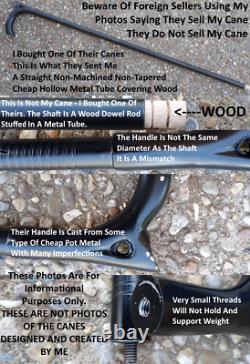 YOU ARE VIEWING THE ORIGINAL AND AUTHENTIC STEALTH WALKER TACTICAL DOUBLE EDGE CROOK HANDLE WALKING CANE - VERY COMFORTABLE - VERY EFFICIENT MACHINE CUT AND FORGED SOLID ALUMINUM. On my tactical walking canes is only the beginning.
They are one of the toughest, most durable canes you will find anywhere. They are a work of art, yet simple in design, well balanced, not intimidating, and you will immediately "feel the security" in your hand. As soon as you pick one up, you'll notice the.
And the beauty of these solid billet canes. They are unlike anything ever designed and manufactured in the world of walking canes. There is no comparing these remarkable canes to any other cane made from a hollow tube, milled wood, or composite plastic. And the classic taper combined with a sleek, modern look, puts these walking sticks in a class with no others. They will last a lifetime and beyond.
THIS STEALTH WALKER CANE IS DESIGNED WITH A FORWARD FACING EDGE AND AND EDGE ON THE CURVE END - AND A STRAP HOLE FOR ADDED SECURITY, AND THE HANDLE IS VERY COMFORTABLE WITH A "V" THAT'S DESIGNED TO FIT BETWEEN YOUR THUMB AND FINGER! BEWARE OF CHEAP IMITATIONS FROM INDIA. THEY DO NOT SELL MY CANE. THEY STOLE MY PHOTOS AND ARE NOT AUTHORIZED TO USE THEM BUT CONTINUE TO USE THEM TO SELL THEIR JUNK CANES. THEY WILL SEND YOU A CHEAP USELESS IMITATION WITH A WOOD DOWEL ROD STUFFED IN A CHEAP HOLLOW PAINTED METAL TUBE AND A MISMATCHED POT METAL HANDLE, THE WORST QUALITY IMMAGINABLE. YOU WILL NOT FIND MY CANE ANYWHERE ELSE.
IF YOU SEE IT BEING ADVERTISED WITH MY PHOTOS ANYWHERE ELSE, IT IS NOT MY CANE. My Cane Handle Is Extremely Comfortable. It's useful design is obvious which lends itself to being the most comfortable handle you can imagine. The handle fits naturally between the thumb and forefinger which aligns your weight directly over the center of the shaft.
A well thought out design, and extremely strong. I don't believe you will find another walking stick like this anywhere.
This is the latest release of my new Stealth Walker series of solid aluminum walking canes machined from solid billet aluminum bar stock, finished with the new GripTech black powder coating. The finish is absolutely amazing! The shaft is machine tapered the entire length of the shaft. This grooved model has two sections of shallow machined grooves for gripping on the upper and lower section of the shaft. The handle and the shaft are a perfect finish match. Many of you know my canes are not cheap junk made from hollow extruded tubes, wood or composite plastic. They are machined, milled, forged and solid. Very Solid, and this one is a very strong stick measuring 38 inches long and it weighs 32 ounces. It unscrews to accommodate the additional handles available in separate listings. This is one serious walking stick!
A perfectly machined shaft that tapers from 7/8 inch diameter at the top to 5/8 inch diameter at the bottom , combined with a detachable double edge handle at the top, makes this one of the most unique walking canes ever invented or manufactured. It comes with my unique cross hatched black rubber tip and a spare standard black tip. This is truly the highest quality walking stick you can imagine. Grab it if you can, and thanks for looking. Walking, cane, hiking, stick, tactical, defensive, quality, heavy, solid, metal, sturdy, protection, defense, self, best, trekking, pole, steel, titanium, aluminum, aluminium, hand, made, handmade, collectible, vintage, antique, custom, machined, forged, strong, fighting, shillelagh, cold, black, wood, thorn, fiber, glass, carbon, composite, nylon, ka, single, simple, easy, bar, united, point, straight, senior, male, female, men's, women's, disabled, disability, walker, personal, engage, emergency, survival, billet, bar, comfortable, new, original, unique, strong, durable.