RUG Coastal Living Collection Sea Life Hand Made in USA Wool Rug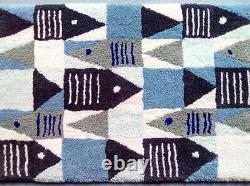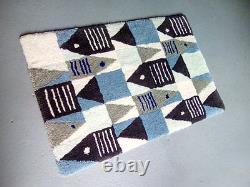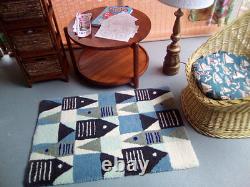 Handmade 100% New Zealand virgin wool rug, one of our new Coastal Living Collection rugs, 2' x 3'. Fresh and cool colors, original JAN Rugs design.
3/4' tall pile, thick and soft. Very easy to care for and maintain. We are able to make any size you need, and we have a huge collection of colors. No two rugs are exactly alike.
These are made on a one by one basis. We are makers of custom area rugs.
To learn about our company please search for J. Custom Area Rug Fabrication Made in USA.
Thanks for looking and enjoy your visit! Bronze, art nouveau, impressionism, realism, renaissance, Goldberg, royal doulton, jewelry, art deco, coach, anthropologie, beads, lot, 24, Smithsonian, museum, Rembrandt, Van Gough, Neiman, Dotson, Barnes, Stein, mid century modern rug, rugs runner, hand tufted, made in USA, fish, blue rug, black rug wool rug, white rug, gray rug, durable rug, cottage rug, traditional rug, seashore rug, beach rug, thick rug, comfortable rug, living room rug, dining room rug, kitchen rug, bedroom rug, study rug, office rug, hall rug, commercial rug, industrial rug, fish, beach, ocean, river, water, sea life, soft rug, comfortable rug, durable rug, long lasting rug, heirloom rug, summer rug, winter rug, springtime rug, autumn rug, gift rug, Christmas rug, Christmas present, colorful rug, floor, flooring, carpet, wood flooring, vinyl flooring, wood floor, dumas, tile floor, vinyl floor, rug pad, door mat, bathroom rug, abstract, rugs America, avon, rug market, American craftsmen, contemporary rug, pictorial rug, abstract rug, foo dog, square rug, rectangle rug, round rug, rug runner, wool rug runner, ikea, long rug, American rug, strong area rug, area rug, wool area rug, traditional area rug, modern area rug, cottage rug, mansion rug, castle rug, American rug, strong rug, high end area rug, luxury area rug, deluxe area rug, exclusive area rug, exclusive rug, value rug, inexpensive area rug, inexpensive rug, area rug, banana republic, hand tufted area rug, wool area rug, hand made area rug, floral rug, floral area rug, abstract area rug, home and garden, cotton, silk, sisal, 2x3, 3x4, 4x6, 5x8, 6x9, 8x10, 9x12, geometric rug, striped rug, medallion rug, nature print rug, nature rug, nature area rug, natural rug, natural area rug, multi color rug, fancy rug, unusual rug, sunroom rug, sunroom area rug, big rug, big area rug, mohawk rug, momeni rug, baby rug, art rug, rug art, travel rug, all over, Holiday, novelty, red rug, orange rug, purple area rug, brown area rug, yellow rug, leather rug, fur rug, sheepskin rug, leopard rug, zebra pattern rug, stair treads, carpet tiles, wall to wall carpeting, porch rug, indoor outdoor, children's rug, ivory rug, green area rug, shag rug, flokati rug, European rug, transitional rug, braided rug, oval rug, irregular shaped area rug, nautical area rug, striped rug, striped runner, geometric area rug, border rug, karastan, jaipur, ikea.