Personal Cushion Lift, Made In USA, New inflatable lifting chair for the floor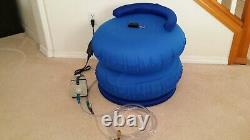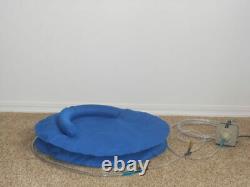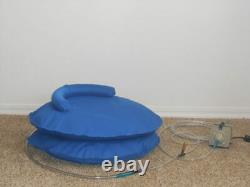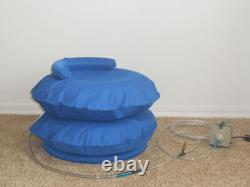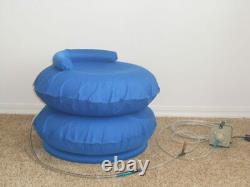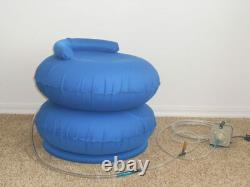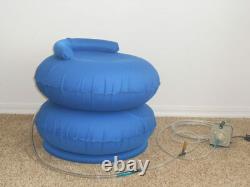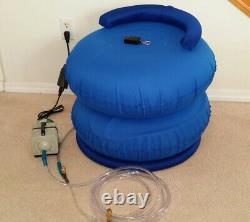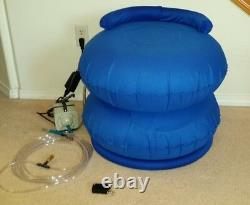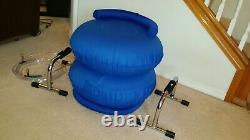 I give very careful attention to the cleanliness of my production equipment and facility. My work area is a one-person space and I dont allow other workers or visitors in my facility. If you are concerned about receiving packages and boxes from me containing Personal Cushion Lift products, please remember. Only three days or less.
If surfaces are sanitized with a mild chemical such as diluted chlorine bleach or Lysol spray. The surface is virus free. (I recommend using Lysol spray if available).
To ensure my products are virus-free and safe to use, I isolate and store a. Ll the parts and materials for. Before I use them to make a Personal Cushion Lift. Being independent means not needing to rely on others to come to your aid. Independence means taking care of yourself and those you care for.
I look forward to assisting you in these efforts. For more information and to watch a video of the Personal Cushion Lift in use. Copy and paste this YouTube address. Please be advised -- This product is hand-made by me and I have a small business operation.
I'm sorry for the inconvenience, but thanks for your understanding. It's easy to get back on your feet. Fallen and can't get up. This cushion helps a person to safely get back on their feet, either. In the yard or garden.
The Personal Cushion Lift is a new, patent pending, inflatable cushion designed to assist in lowering or raising a person from the floor after a fall. The unique design makes it stable, supportive and extremely durable when in use.
For some people getting back on their feet after a fall can be difficult or even impossible. Whether you live alone or act as a caregiver for someone else in need of assistance, the Personal Cushion Lift can make this situation easier to manage safely.
Any time a person is physically helped to get back on their feet, there is the possibility of accidental injury to both the person being assisted and the caregiver who provides help. Common injuries are to the back, neck, shoulders, and arms when trying to lift and move the person who needs help. The Personal Cushion Lift takes away much of the risk , uncertainty , and possibility of injury when helping a person to rise to their feet.
This equipment can be used privately and independently by any person who has good personal balance and control, despite being physically challenged or disabled. Can be used with the help of a caregiver or family member.
For best results anyone using the Personal Cushion Lift should be able to balance themselves and control their own movements while the cushion moves their body up and down, even if being assisted and stabilized by a caregiver. It is very simple to use, and ALL of the heavy lifting is done by the cushion ; the caregiver only needs to help balance and stabilize the person being assisted. When using the Personal Cushion Lift, it takes about 2 minutes to be lowered and 4 minutes to be raised to a seated position. This can help anyone weighing. When rising from the floor, the flat, empty cushion is placed on the floor. To set up the equipment all you need to do is attach one air line between the air pump and the cushion. He person needing assistance is then moved or rolled onto the flat cushion and helped to a sitting position. With a single push of the. Small electric air pump inflates the cushion.
While the person continues to be balanced and stabilized, the Personal Cushion Lift then does all the heavy lifting to help the person back to a normal seated position on the inflated cushion. This makes it easy to then get back up on their feet.
Everything is included for one price. The Personal Cushion Lift package comes with everything needed to assist someone who needs help moving up or down: an inflatable cushion made of durable, water resistant fabric; a small light-weight air pump with a wireless remote control; and a 20 foot long vinyl air hose with in-line valves. The cushion is made from. Puncture resistant during normal use.
The outer surface is made of thick vinyl FABRIC which is sewn together with heavy upholstery thread to make a very comfortable yet durable surface. The fully inflated cushion is approximately 18" tall and 24" wide (depending on the weight of the person being lifted). The cushion has a low point in the middle of the seating area which causes it to remain centered under the person sitting on the cushion.
The unique foam rings on the bottom and top provide gentle support and enhanced stability. These features allow the cushion to be stable and supportive when used on the floor to help a person back to their feet. Cushion Lift can be custom-built to help in a variety of situations. If you have a special situation or if you need a special product. The air pump is powered by electricity from a normal wall outlet.
Have to worry about charging a battery and. You will always have full power. Regardless of the number of times the cushion is inflated. This results in you being assured of consistent and reliable air pressure to inflate your Personal Cushion Lift. The 20 foot long air hose allows the air pump to be placed safely away from the user and controlled remotely using a wireless push-button on/off switch.
The air hose includes an automatic pressure release valve to avoid the possibility of over-inflating the cushion. The air pump with the hose, and the inflatable cushion, each weigh less than 7 pounds, which makes set-up or storage quick and easy. All of the equipment may be stored in a small optional carrying case the size of a gym bag. This makes it simple to store all the equipment and easy to carry if you are traveling to assist someone in need of help.
For easy-access storage, simply slide the entire cushion, hose, and air pump under a bed when not in use. Whether you use it yourself or recommend it to a friend or family member, the Personal Cushion Lift makes your life much safer and easier. The Personal Cushion Lift will always help you get safely back on your feet.
The Personal Cushion Lift will restore independence to the challenge of rising from the floor after a fall. The Personal Cushion Lift will restore dignity and safety to the user and the caregiver. I now make most cushions using the Royal Blue color fabric since it is the most popular. Each cushion can be specially designed to fit your individual needs. Lease contact me for possible options.
As you order and let me know your intended use, and any special features you need for your situation shape, diameter, height, etc. IT'S EASY to get back on your feet. Please contact me if you're interested in licensing this product or if you can help me in manufacturing, marketing, or distributing.
I'm interested in working with larger companies so I can increase my ability to market this useful product. I'm open to reasonable offers and I'm willing to work with partners who want to build a business. Considering there are more than 75 million people in the US over the age of 65, I need help satisfying the demand. My goal is not to make a million dollars. My goal is to help a million people.
The item "Personal Cushion Lift, Made In USA, New inflatable lifting chair for the floor" is in sale since Monday, November 20, 2017. This item is in the category "Health & Beauty\Medical & Mobility\Mobility/Walking Equipment\Other Mobility Equipment". The seller is "linnfuller" and is located in Idaho Falls, Idaho. This item can be shipped to United States.
Model: Personal Cushion Lift for the Floor
Country/Region of Manufacture: United States
Custom Bundle: No
Maximum Load Capacity: Up to 300 lbs
California Prop 65 Warning: I include a remote control device from another manufacturer which has a California Prop. 65 warning as part of the product.
Power Source: Electric
Type: Inflatable Lifting Cushion
Features: Hand Made in the USA
Modified Item: No
Power: 60 w, 120 v
Brand: Lifestyle Solutions
Manufacturer Warranty: Other: See Item Description
Number of Speeds: 1