Nexskin Cotton Elastic Compression Bandages Hook & Loop Wrap Fasteners, USA Made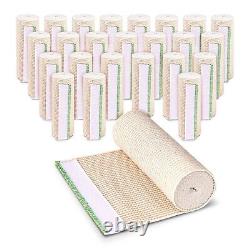 NexSkin Cotton Elastic Compression Wrap with Hook & Loop Bandage Fasteners. ACE YOUR RECOVERY WITH NEXSKIN. Advance your healing with only the best.
NexSkin bandages are exclusively made from thick-weaved American cotton, and breathable elastic made for sensitive skin. No other brand can offer the same quality, thickness, comfortable compression, stability and support during your recovery. Plus, our bandages are machine washable and reusable. EASIER TO USE AND SAFER FOR YOUR SKIN - Choose NexSkin for a more comfortable, safer wrap that is made for sensitive skin.
Our touch fasteners, (or double hook and loops) help keep the bandage in place and maintain the right stretch, stability and compression for you. Don't settle for foreign-made bandages of questionable quality, choose our American-made bandage that is designed to help you heal and can be worn all day. CHOOSE THE TRUSTED LEADER - Rest easy knowing that NexSkin is trusted by qualified sports trainers, athletic coaches and orthopedic medical staff. We deliver lasting support and compression that helps reduce swelling and accelerate recovery. Be prepared for planned surgeries or life's unexpected injuries like ligament tears, joint sprains or muscle pains and strains. Our wraps may also help to relieve symptoms from chronic conditions including edema and lymphedema. WE'VE GOT YOU COVERED - Each NexSkin bandage is tailored for your unique needs. We offer 4 size widths: (2" 3" 4" and 6" inch) that fit practically any area of the body. Please see our sizing chart for suggested sizes. Each individually wrapped roll provides you with a generous 5 feet of length that stretches up to a full 15 feet for customized pressure, support and comfort that's right for you. It's our simple pledge to you, so you can focus on what matters most - your healing and your health. Nexskin 2 Wide Cohesive Cotton Bandage Wrap Hook/Loop Fasteners Washable. Nexskin 3 Organic Cotton Breathable Bandage Wrap Hook & Loop Fasteners Washable. Nexskin 4 Organic Cotton Breathable Bandage Wrap Hook & Loop Fasteners Washable. Nexskin 6 Organic Cotton Breathable Bandage Wrap Hook & Loop Fasteners Washable. Golden Touch LLC has been in business for over 30 years.
Our bandages are made with 100% American grown Cotton of the highest grade. Our divisions include Caribbean Gem Jewelry Cleaner, GT Bandages, NexSkin and more. Need to pay via Credit/Debit card?