Minuteman 5 Star Grill/Fire Pit (Handmade in USA)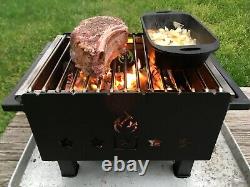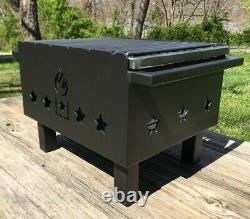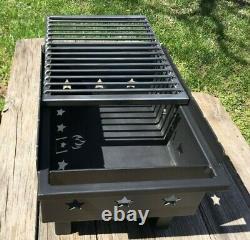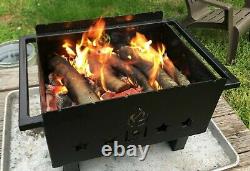 If you had to cook at home on a open wood fire how would you do it? Most grills are not deep enough and fire pits are usually too big and require vast quantities of wood. We have the perfect solution. The Minuteman 5 Star Firepit / Grill provides a decorative firepit, family sized charcoal/wood cooking grill and shish kabob cooker wrapped up into one heavy duty yet still portable unit.
Not only is it the "Perfect" size grill/kabob cooker for a group of 4-12 people but also doubles as a small firepit with cooking grate. Here are a few of the features. Plasma cut decorative air holes allow ample airflow to promote healthy combustion and look stunning at night.
Ccommodates charcoal and wood up to 16 in length. 17" x 13" Grill rack made with 5/16 steel rod, provides ample cook surface for up to 6-8 burgers and will last many years of use.
6 pre cut notches for 16+ Shish Kabob skewers. 1/8" thick steel (10 Gauge), 8" deep burn box provides for years of trouble free use and is deep enough to accommodate split wood. Easy to grip handles for ease of movement. The perfect centerpiece of your survival/camp/backyard kitchen. Excellent for RVs or Car Campers.
Every Firepit / Grill comes with a free 1lb Bag of Maya Stick Fatwood Starter.