Ken Richardson Hand Made In USA Stag/elk Bowie Knife 13 1/2 -14 O. A. Krk-1410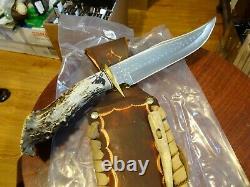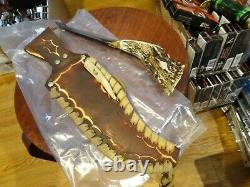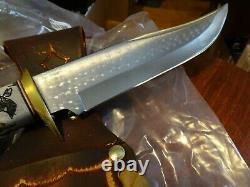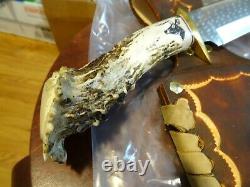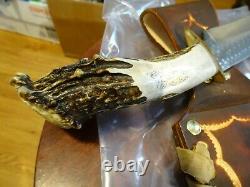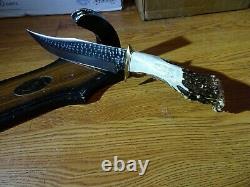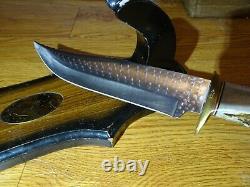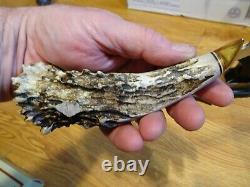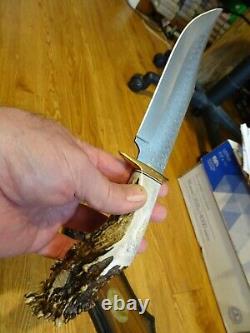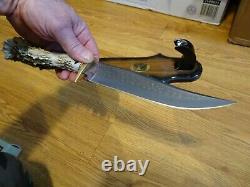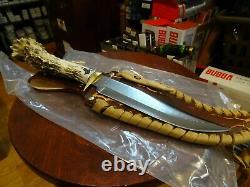 Here is the Largest of the Crown Handle Bowie Knives by Ken Richardson cutlery 13 1/2" to 14" Overall with an 8" Blade of 1085HC Spring steel model # KRK-1410 and are all hand made knives by Ken Richardson, this is his largest Bowie ranging from 13.5" to 14" depending on the material, Crown Stag Bowie Knife by Ken Richardson, Model # KRK-1410 / 6/1/20 We noticed on our last order our cost when up again and they are now listing these at 14" these are very well made knives with many extras. UPDATE; The 12 pictures are examples of the knife you will get, unless we tell you (YOU WILL GET THE KNIFE YOU SEE) UPDATED ON 2/22/21, it is hard to keep up with new pictures for each sale but we are trying. ON AVERAGE WE HAVE 30 SALES PER DAY THAT IS 360 PICTURES AND THAT IS ALLOT OF TIME, I'M NOT MAKING EXCUSSES I'M JUST BEING HONEST WITH YOU, WE ARE TRYING. Starting with the Blade its made with 1085 Spring Steel, 85% carbon tempered to blue spring steel. The blade is 8 1/4" overall and completely custom made the blade edge is 8" + or -, Measurements may vary slightly due to the variances in the natural materials.
Plus the blade has two sharp edges, you have the 7 1/4" of blade edge on the bottom and on top of the blade, there's about 5" of edge, sharp edge. Also, notice the spine it runs up the center of the blade to give the tip much-added strength. The high carbon alloy allows the blade to hold its edge longer and when needed sharpening is easy, you will want to keep a light coating of oil on the blade. Now the Handle it is either Mule Deer, Whitetail Deer or ELK it is the crown of one of these sheds, and this one has allot of pearling so there's no way you should ever lose your grip. If you do not have large hands you might not want this knife its shape and dia.
We are keeping in our inventory Bowie Knives 1-KRK-1403, KRK-1408, KRK-1410, KRK-1432, we added the KRK-1405C, 14085 this takes you from their smallest to the largest and two in between, plus now all of these come with or without a Turquoise Band, and we have all of these knives listed, and now you have a choice of a Drop Point Blade or Clip Point Blade these are awesome Hand Made knives in the U. These 13 1/2 Custom Hand Made Crown Bowie Knives have so much detail in them and the sheath's wow tie-downs with stag tips that will strap the knife as a tie as you want, you're getting more then you realize. I just got another order in and the handles are thicker then what you see here.. Each knife made will be different and have its own character like the whitetail deer carved into the handle plus no two sheds can look or be the same and there's a 2 1/2 Brass Tee Guard.
So the blade, & Handle are both top-notch now check out the Sheath and the tie-down again all hand made in the U. It has a design of its own and a larger then a normal piece of leather wrap tying it together then there are several long leather straps tie-downs and two with an antler tip at the end that are used to hold your knife in the sheath which you can see in the pictures. Now for those of you that would like a large Bowie knife made in the U.
Is a fair price but its not how we work. 8 1085HC steel clip point blade. Shed deer or elk antler handle. Measurements may vary slightly due to variances in natural handle materials. Okay, you now have all the details and I think you'll agree with us that these are some very well made knives,, plus you can see how many of each we need to keep so we do not sell out.
If you have any questions please contact me. The item "KEN RICHARDSON HAND MADE IN USA STAG/ELK BOWIE KNIFE 13 1/2 -14 O. KRK-1410" is in sale since Sunday, October 30, 2016. This item is in the category "Sporting Goods\Outdoor Sports\Camping & Hiking\Camping Knives & Tools\Camping Knives". The seller is "mellonpatch4" and is located in Coatesville, Pennsylvania.
This item can be shipped to United States.
Model: HAND MADE BOWIE
Country/Region of Manufacture: United States
MPN: KRK-1410
Brand: KEN RICHARDSON