Hand Made in USA Solid 14 k Yellow Gold Rosette From Pliska IYI Tangra Dullo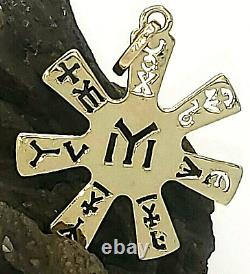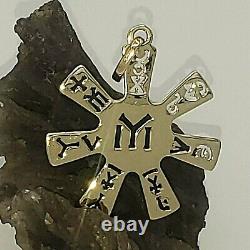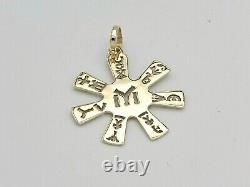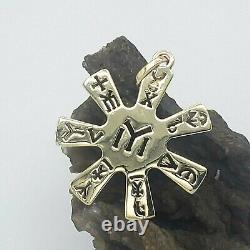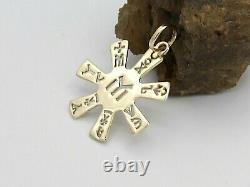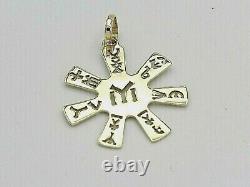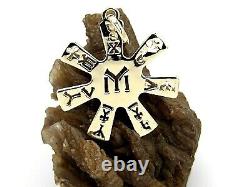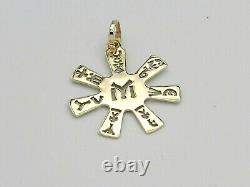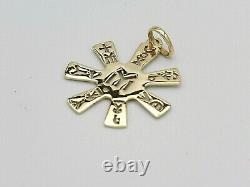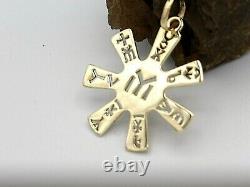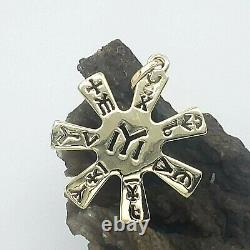 Handcrafted Hand made in USA 14 K Yellow Gold Rosette from Pliska Pendant. The original rosette is an ancient Bulgarian bronze artifact found in Pliska, Bulgaria in 1961. The Rosette is dated to the 7th-9th century. It measures around 38 mm in diameter.
The Rosette itself is a seven-beam star-medallion with Proto-Bulgar signs on it. On the back of the medallion is carved the Protobulgarian symbol IYI. During excavations in the first Bulgarian capital Pliska, archeologists found a unique object.
It is made of bronze and it has a shape of a rosette with seven rays. Not only its form is remarkable. There are ancient protobulgarian signs carved on it, so called runes. Researchers think the rosette represents ancient Bulgarian 12 year cyclical calendar, declared by UNESCO as one of the most precise calendars in the history of mankind.
Runes in the outer circle are the signs of the fifth known planets in the ancient time together with the Sun and the Moon: Venus, Saturn, Mars, Jupiter and Mercury. And in the inner circle are represented the runes of week days. The most famous Bulgarian rune symbol- IYI is carved on the back of the rosette.
This is the symbol of the Sun and expresses the religious ideas of protobulgarians. Some researchers believe this is the sign of Bulgarian dynasty Dullo, who found the Bulgarian state. 14 K Yellow Gold Stamped -Handcrafted.
Diameter : 35.70 mm (1.40 inches). Thickness : 1.05 mm(0.04). The pendant comes in a gift pouch and gift box.