Amish trash bin Made in USA Extra Large trash can cabinet Amish handmade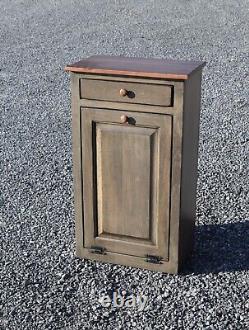 This beautiful extra-large wooden trash bin is designed and handcrafted by our Amish craftsmen! The tilt-out design and attention to detail give this trash bin style and durability. This bin is perfect for your kitchen, cafe, or even a large office space! Made in USA (Amish Handmade).
Fully functional drawer (no sliders or stoppers). Fully assembled and ready to use. 50 qt (12.5 gallon) Plastic can included (Size: 10-3/4"W x 14-3/4"D x 21-3/4H).
Sliders on the bottom legs. Measurements: 35 1/4" H X 21 1/2" W X 12 1/2 D. COLOR ORDERING DETAILS: The listed picture is Black pewter with a special walnut top.
Please double-check the color you have selected.