2404 HEAVY-DUTY CYLINDER FLEX HONE 8 / 203mm DIAMETER 180 GRIT USA MADE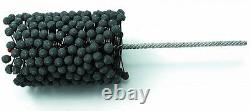 2404 HEAVY-DUTY ENGINE CYLINDER FLEX HONE 8 / 203mm DIAMETER 180 GRIT USA MADE Removes cut, torn and folded metal to produce long wearing surface. Resurfaces cyli nder walls so new rings will seat and eliminates minor cylinder wall imperfections. For engine and brake cylinders, hydraulics, valve guides, lifter bores, diesel cylinders, cam bearings and more. Bore diameter: 8 / 203mm. THIS TOOL IS MADE IN USA. This is a terrific item, it is a "must have" for professional mechanics. This Tool is a Brand New. Labor costs are not covered. Liability for neglect, misuse, special, incidental, direct, indirect and consequential damages is specifically disclaimed. The maximum liability is the actual amount charged for parts or services rendered. How it works: A customer must return the item first with a note specifying the problem. If the item is defective a replacement part will be sent at no additional cost.
We are not liable for problems during transit time! Miscellaneous: We are not responsible for occasional typographic errors. We leave feedback as soon as feedback is received.