128 Rolls Hand Stretch Wrap Film Banding 18 x 1500' 11.5 Micron USA MADE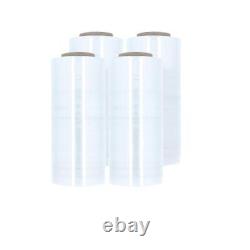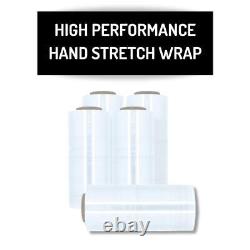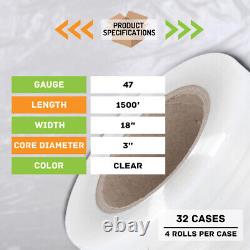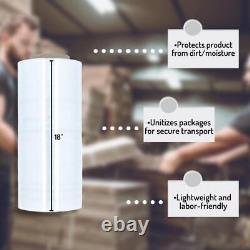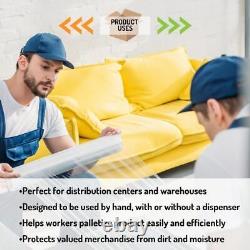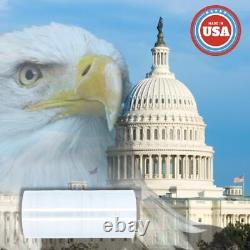 HEAVY DUTY - The hand stretch film is made of 47 gauge thickness material that is extremely durable yet cost effective. EASY TO USE - The stretch film has an extended core handle, making it easy to unwrap. Bundling packages with clear film is easier, faster, and more efficient than tape, twine, or straps.
PRESERVATION - Cling plastic wrap shields surface of possession(s) from dust/stains, scratches, scuffs, and damage without leaving behind a residue. MULTIPURPOSE USE - The stretch wrap is perfect for safely securing all types of items such as furniture, boxes, or even objects featuring odd shapes. Down Gauge Hand Stretch Wrap.
Stretch wrap is the ideal product to use when bundling and moving. The self-adhering, high strength wrap securely clings to itself with no extra need for tape or heat sealing. Resistant to punctures and tears, stretch wrap will keep you items safe and sound until they are unpacked. At that time, the wrap can easily be removed with no residue or damage left behind. Down gauge hand wrap is excellent for protecting and bundling items. Cast wrap will provide resistance against tears and punctures and protects from minor damages and elements such as dust and moisture. This wrap is lightweight and self-adhering making it very easy and convenient to use. Easy release and Excellent Cling. Puncture resistant Stiff and Strong. High Performance and Quiet unwind. Self-adhering & residue free when applied. Replaces Thicker film for a Lower per unit cost. Safeguards packages from dust, dirt and moisture relating causes.
ALL PICTURES SHOWN ARE FOR ILLUSTRATION PURPOSE ONLY. ACTUAL PRODUCT MAY VARY DUE TO PRODUCT ENHANCEMENT.